Stackplot SWE
Kiruna

This page automatically reloads the latest magnetogram every 2 minutes
Lycksele

This page automatically reloads the latest magnetogram every 2 minutes
Sundsvall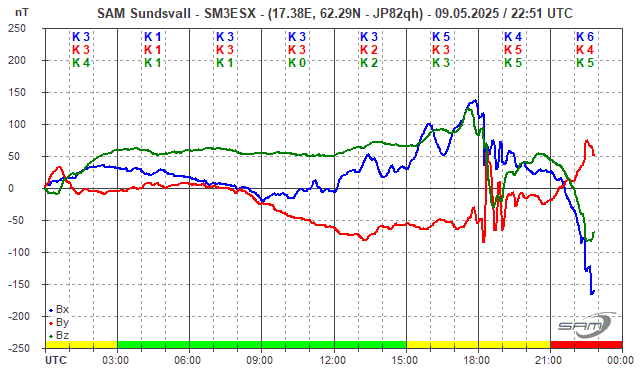 Odensbacken

This page automatically reloads the latest magnetogram every 2 minutes
Moheda

This page automatically reloads the latest magnetogram every 2 minutes
Abisko
This page automatically reloads the latest magnetogram every 2 minutes
Acknowledgement
SGU
Kiruna
This page automatically reloads the latest magnetogram every 2 minutes

Acknowledgement
IRF
&
TGO
&
WDC Kyoto
Jäkkvik
Lycksele
This page automatically reloads the latest magnetogram every 2 minutes
64.5924507, 18.6532821 Acknowledgement SGU.se
Sundsvall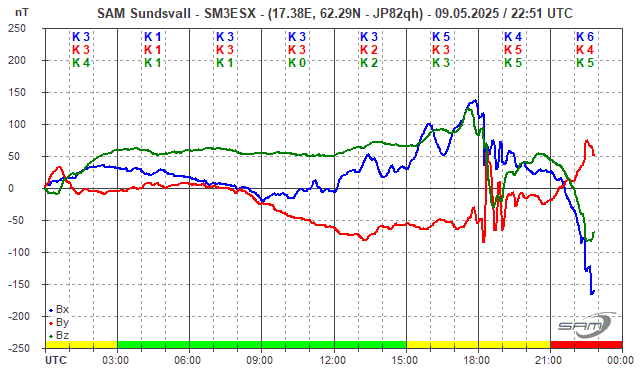 This page automatically reloads the latest magnetogram every 2 minutes

62°23'26.9″N 17°18'25.1″E
62.390797, 17.306969
Acknowledgement
sm3esx.se
Uppsala
Odensbacken
This page automatically reloads the latest magnetogram every 2 minutes

59°09'47.9″N 15°31'34.7″E
59.163318, 15.526291
Acknowledgement
sm4ive.com
Moheda
This page automatically reloads the latest magnetogram every 2 minutes
Tormestorp
This page automatically reloads the latest magnetogram every 2 minutes

56°06'42.6″N 13°44'36.9″E
56.111834, 13.743589
Acknowledgement
lund.irf.se
Info
What's a Magnetometer?
When the Earth is passing through a plasma cloud, the collisions of charged particles in the upper atmosphere cause disturbance to the Earth's geomagnetic field. A magnetometer is a device that measures deviations in the Earth's magnetic field, which might indicate that there is an aurora in progress. The greater the disturbance, the better the aurora is likely to be. The relationship between magnetometer readings and actual auroras in the sky is quite complex. It is possible to have strong auroras in the sky when the magnetometers are at seemingly background levels. Norwegian magnetometers provide the best correlation to visible auroras. In many cases, magnetometers fail to detect activity or react a couple of hours after the light show started.
Sensor: 3-axis, X (North-South, blue), Y (East-West, red), and Z (Vertical, green) – Geographic Coordinate System
SAM-III with (3) sensors
Read the magnetogram as folLows:
The horizontal scale is a 24-hour time scale in Coordinated Universal Time (UTC). Just above the horizontal axis are colored bars indicating the K-index for each period (this actually is a pseudo-K-index because it is calculated on each of the X, Y and Z components instead of the horizontal component [vector sum of X and Y]). The Highest K-index of the three appears at the top of the chart. The colors of the K-index bars are: Green: K3 and beLow, YelLow: K4 and K5, and Red: K6 and above.
A red alarm bar may appear just beLow the horizontal axis. The alarm is triggered when the magnetic field fluctuations reach a preset threshold within 20 minutes. For the above chart, the threshold is K5. A rapidly changing field indicates High probability of visible aurora.
The vertical scale shows magnetic induction (magnetic flux density, B) in nanoTeslas. The chart is normalized each day at 0000 UTC wherein the magnetic induction of all three components, Bx, By and Bz, are zeroed relative to the value at 23:59:59 UTC the day before. The vertical scale is automatically adjusted (auto-scale).
The color of each trace is indicated for Bx (Blue), By (Red) and Bz (Green) in the Lower-left corner of the chart.
Acknowledgement
SAM or reeve.com
Map
UTC?